Cushion Storage, Garden Containers & Metal Sheds
SM Garden Sheds offer an incredible range of garden storage products all available to buy on-line at the best possible prices.
We have cushion storage, log storage, bike sheds, lock-ups, gas bottle storage, plastic storage boxes, metal storage boxes, bin stores and weatherproof containers of every size. We deliver metal sheds, timber sheds and plastic sheds to homes right across the UK. SM Garden Sheds sell garages, carports, summerhouses, greenhouses, playhouses, potting sheds and workshops. We have a great choice of arbours, garden seats, swing seats and gazebos. Our lists go on and our product range grows. We're always on the lookout for new ideas and welcome suggestion from our customers.
SM Garden Sheds buy in bulk and pass on our discounts directly to our customers. With a huge range of garden storage products and a very high turnover we always have a great choice of unbeatable special offers.
At the time of writing, SM Garden Sheds are offering huge discounts on our garden cushion storage boxes, metal sheds and garden seating. Next week it will almost certainly be something different.
Garden Cushion Storage, Garden Boxes and Garden Containers
SM Garden Sheds storage containers are as elegant as they are practical. Our garden storage containers come in a choice of styles, sizes and colours and from what our customers tell us they are used for every gardening purpose imaginable.
Cushion Storage. During the summer months we all like to spend as much time enjoying our gardens as possible, whether we are unwinding at the end of a long day at work or pottering around the garden, planting and pruning. Metal cushion storage boxes are attractive garden features and gives us instant access to a little extra comfort while keeping our belongings safe, dry and secure when not in use.
Plastic garden toy boxes are ideal for the kids and make tidying away at the end of the day quick and easy.
From simple top-opening garden containers to technically sophisticated roller shutter storage, SM Garden Sheds can meet your every need.
Metal Garden Sheds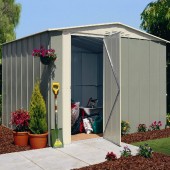 Perhaps it is not surprising that a company called SM Garden Sheds gets a little carried away when it comes to sheds. We have a huge range of timber sheds with pent roofs, apex roofs and lean-to designs. Single-doored sheds, double-doored sheds, sheds with side doors or doors front and back. Out heavy duty plastic garden sheds are an eye opener to many of our customers. Available in a range of natural colours and built from UV resistant modern plastics, our plastic garden sheds are built to last.
Perhaps the most practical of all our garden sheds are the metal garden sheds. Metal garden sheds are made from hot dipped galvanised steel, guaranteed against rust and perforation. Metal garden sheds are strong and designed with security in mind. Metal garden sheds are versatile, practical and virtually maintenance free. Precision engineering make our metal garden sheds easy to assemble and with metal garden sheds available in every size and design we are sure you can find the metal garden shed you are looking for.
Garden Accessories
As well as our great range of garden storage containers, SM Garden Sheds have every accessory you could wish for to customise your storage to your own requirements. We have shelves for sheds and workshops, bike hangers, shed bases and canopies, tool stores, skylights, windows, storage nets and padlocks.
Further Information / Contact Us
Check out our website at www.smgardensheds.com for a full range of products.
Delivery is free to most areas of the UK mainland.
For further information contact sales@smgardensheds.com or telephone 0845 601 6299.