Self Storage Hints & Tips
These days people are more reluctant to have excess space in the home or business premises, that is not being put to good use. It is uneconomical to have a room which exists solely as storage for superfluous items that are not needed or indeed wanted. Even so it seems virtually impossible to get rid of certain possessions, and who knows you may need them…someday!
You can of course transfer these belongings to a place where they will not be in the way or cluttering up your surroundings. Self storage containers are an excellent solution in this case and in many other circumstances, allowing you to free up your living environment. When downsizing, it is helpful to keep some of your things, particularly if large and bulky, in a dry and safe facility, until they can be either introduced into the home, given away or sold.
Self storage containers can play a huge role when moving home as a temporary place for contents, or in the case of any disruptions or postponements holding up the move. It may not be possible to occupy your new home whether in Newcastle or elsewhere immediately, making self storage an ideal option. There are a few pointers to remember in order to ensure you are getting every bit of value from your self storage lock up, unit or container.
Secure Self Storage Containers & Units, CCTV, Secure Locks & Electronically Controlled Fencing, Newcastle
When you think you have found the ideal storage facility, there are a few questions to consider. You will want to know what kind of security is in place at your chosen site, and whether you can access your self storage container or unit any time. Find out the times and days you are allowed access to the premises to confirm if that particular storage facility is suitable for your requirements. A good sound storage facility will be completely fenced and well lit. Is there CCTV monitoring, and are you the only one able to get into your storage lock up? Can you drive your vehicle right up to the container or unit for your convenience.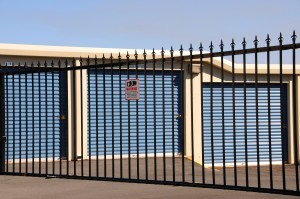 Its worth finding out about any other types of space they may have for rental such as office or workspace, and if they offer any deals or reduced rates. Is their storage rental flexible in the event that arrangements must be changed. These are all important factors when looking for storage, whether its due to home relocation, business premises transferral, hobby paraphernalia storage or to deposit tradesmen's tools equipment or building materials in Newcastle.
Maximise Storage Space in your Rented Lock Up or Container by Vertical Stacking
Once you have ascertained that this is the facility to go with, its a good idea to assess how much you want to store, in order to decide on what size storage container you will need. Things can be stored in such a way as to maximise the amount of space available. Large, sturdy, properly packed items can serve as a base for other lighter items, and vertical stacking will save space. Take care though not to place boxes too high, as they may fall and break, become damaged or cause injury. Keep similarly sized boxes together to reserve storage capacity. Also, check with the storage company if there are any restrictions on what you can store.
Extra space can be created in a number of clever ways, such as by partly disassembling pieces of furniture of possible. Mattresses and sofas can be stored upright and items such as bedding, towels etc should be placed inside cupboards, drawers or suitcases. Any valuable empty space within appliances may be filled rather than remaining unused.
Organise Stored Items & Create Itineraries, Pack Possessions & Valuables Carefully
Its wise to make a list of everything you have placed in the self storage container, and label all boxes etc ensuring ease of identification later. Organisation is the key to a smooth process, and these notes are also usually required with regard to insurance.
As a precaution, position any valuable items at the back of all of the other belongings, out of harms way. In order that any hidden away things can be accessed by yourself if need be, leave a main pathway or aisle, and make sure that the labels on your boxes are easily viewable. This avoids having to clamber over obstacles to reach some everyday item you packed by mistake. By the same token choose carefully which things you may want to get at, and store them near the front of the unit. Use of sheets and blankets will help protect white goods from damage or scratches. Make sure the doors of fridges, freezers, washing machines and tumble dryers are left slightly open to preserve freshness, and prevent development of odours and mould. Chairs can be stacked seat to seat and separated by card or paper, and soft furnishings will remain protected from dust etc if covered. All of these measures will help to guarantee a smooth and efficient self storage experience.